We've discussed in our previous newsletters the importance of working in a well lit room. If you've been working on a diamond painting canvas for a while now, I'm sure you know how important it is to see your symbols clearly. We've read and seen examples of where customers have accidentally interchanged symbols, confusing them with another. Also, there are some customers who are having issues in seeing the symbols as they're too small for their personal eyesight to see easily.
What if you're already working in a well lit area and your working table is already bright, yet you're still having problems seeing your symbols easily? And also, what if you enjoy working on your diamond painting at night or where natural light is minimal? No need to worry as there's a tool that's designed especially for this and perfect from day to night... I want to introduce to you the magic of a light pad!
What is a light pad? This is a thin and lightweight device that emits light from the flat surface. The purpose of a light pad is to help illuminate any object that's placed on top of it like paper or pattern. This tool is perfect for diamond painting as it helps to brighten up your canvas and see the grid lines and symbols easily.

Our Home Craftology light pads come in 3 different sizes depending on your needs. Here's a detailed guide on the sizes and their measurements. For beginners or customers who like to work on small canvases, I would suggest to get the A4 size. This is the smallest light pad but I assure you it'll still do the trick!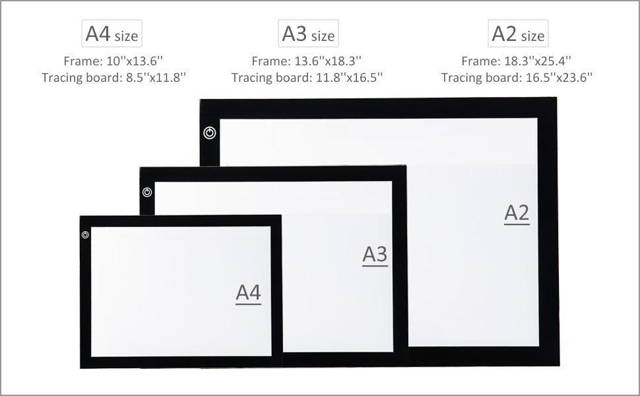 Home Craftology's light pad also comes with a 2m white power cable and has 3 brightness levels. Level 1 will emit a low light, level 2 is intermediate, and level 3 is the brightest level.
Simply connect the USB cable to any adapter and plug it in. Once you've plug the cable into your light pad, it should have a blue light near the power button. Just click the power button on the upper left portion of your light pad and it will light up. Continue clicking the power button to shift to different light levels. The first is level 1, then level 2, last is level 3. If you click the power button again, it'll then turn off.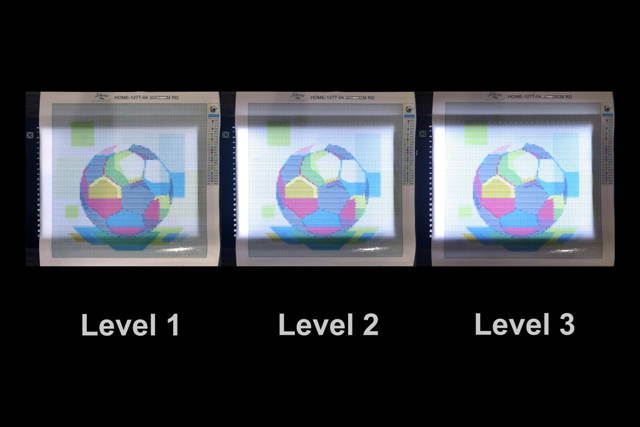 Here's a sample photo to show you the different brightness levels. This is a 30x30cm canvas in an A4 light pad. 😊

Here's another sample photo of Paula's workstation. She's using an A4 light pad for this large (100x100cm) customized diamond painting. Aside from the light pad, she's also using a tabletop lamp and a magnifying glass while working on her canvas. These are some extra tools you can add to your workstation if you feel like you need more.
I honestly don't use anything else aside form my light pad but I'm sure this tabletop lamp and magnifying glass can also be as helpful! 😉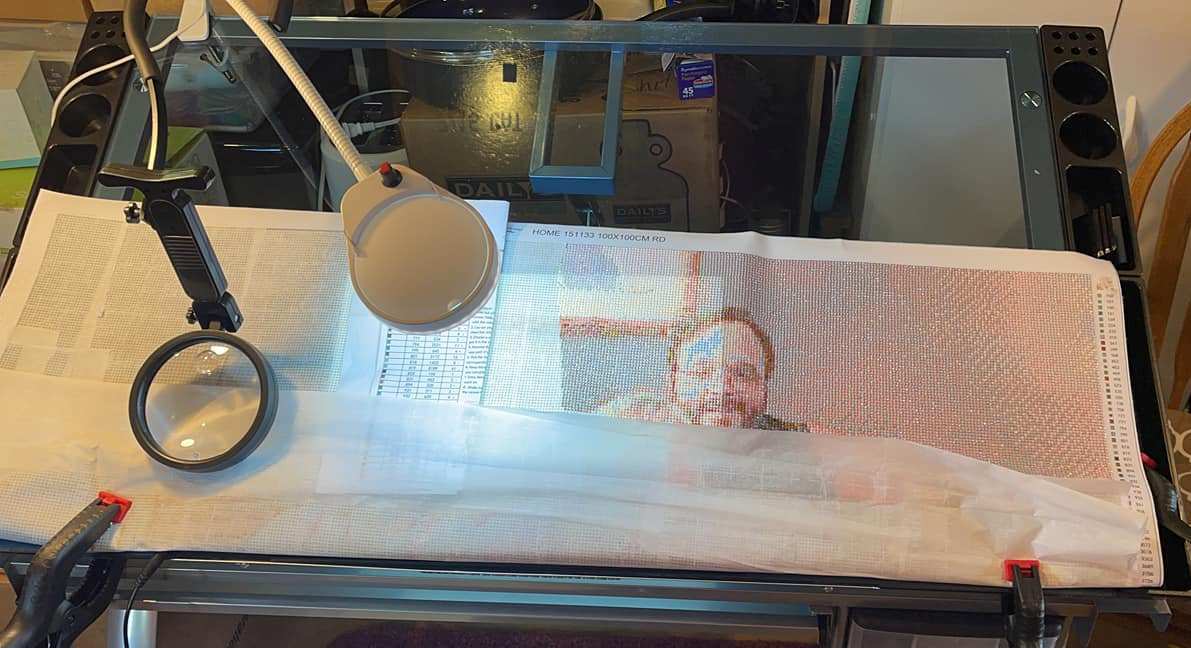 Take things up a notch...
What's New in Home Craftology Diamond Painting Facebook Group
Our Facebook community is a safe space where you can share tips and photos of your diamond painting journey. This is also the perfect place to meet fellow diamond painting enthusiasts and ask even them tips on how to improve your work. 😊
The first photo is a customized diamond painting of Anne's nephew while playing hockey is looking pretty good! She's using an A2 light pad on level 2 brightness. She has eye problems so the light pad helped her so much while working on this canvas. She said it was worth the money! 👍

This next one is a 40x40cm Sun and Moon Diamond Painting Kit, Julie's current work in progress. This canvas fits perfectly on her A2 light pad! Can't wait to see her finished work! 🤩

This last photo is a 60x70cm Eiffel Tower Diamond Painting Kit that Kathryn is currently working on for her daughter. She's starting her canvas on the upper left portion and she's using this light pad to lighten up her work. Awesome start! 👌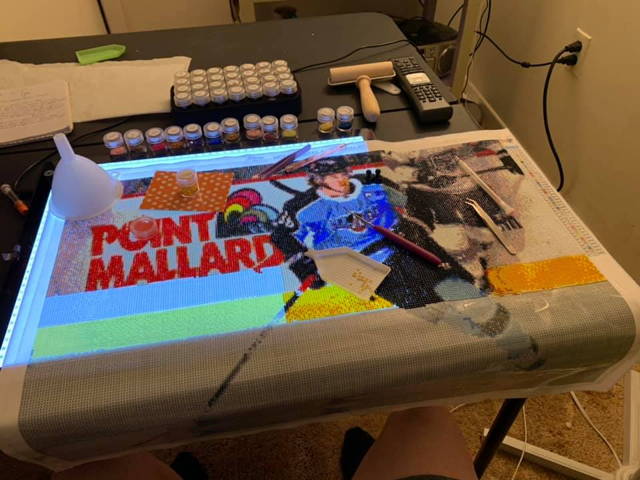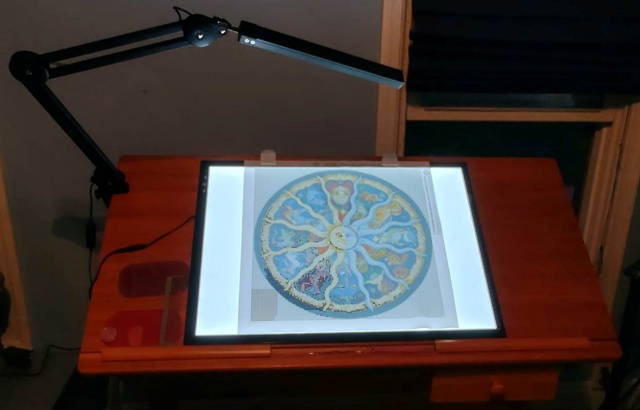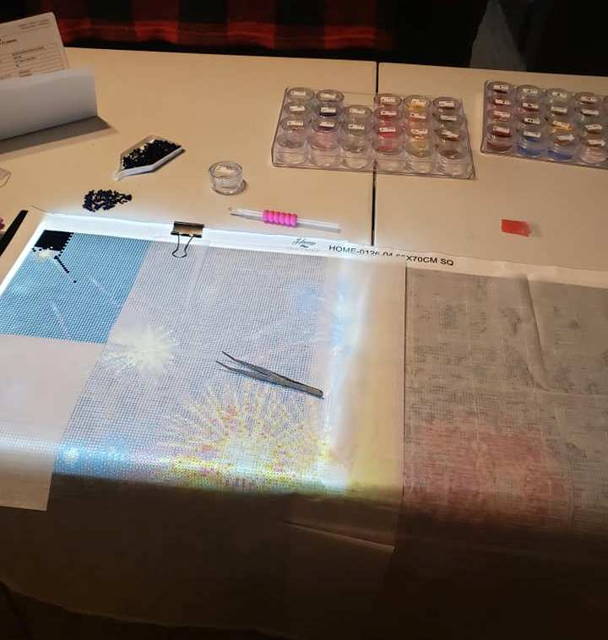 Introducing our Latest Additions:
We're bringing you the freshest and nicest designs diamond painting has to offer!
Here at Home Craftology, we make sure to add new designs for our customers every week. You'll see amazing and unique images you'll only find in our store! On top of that, we also ask our awesome customers for their suggestions.
Please do send us a message if you have any design suggestions you want us to add! Here are a few of our best selling designs that we recently added to our store